When:
May 11, 2019 @ 2:00 pm – 4:00 pm
2019-05-11T14:00:00+01:00
2019-05-11T16:00:00+01:00
Where:
Seaforde Gardens
Seaforde
Co. Down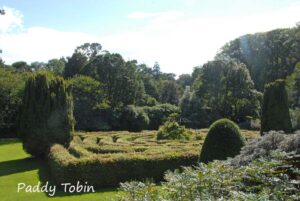 Over 250 years ago, the famous Mrs Delaney who travelled the length and breadth of Ireland described Seaforde as being "a very pleasant place and capable of being made a very fine one". Its long history can be seen in the walled garden where the structure dates from the early 17th century while newer elements are the Tropical Butterfly House, the Moghul Tower and the Maze. In early May we will be able to admire not just the very fine collection of trees but also the rhododendrons at the peak of their flowering season and stunning views over the lake to the Mourne Mountains.
We are most fortunate in that our tour of this atmospheric garden, including parts not normally open to the public, will be led by the owners, Lady Anthea Forde and her son Charles. Afterwards we plan to meet in the cafe and socialise over a cup of tea.
This event is for members and their personal guests only please