When:
July 8, 2023 @ 11:30 am
2023-07-08T11:30:00+01:00
2023-07-08T11:45:00+01:00
Where:
Powerscourt Gardens,
Enniskerry
Co. Wicklow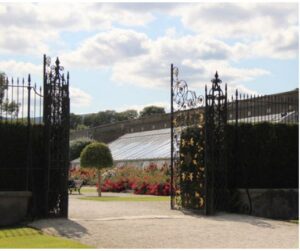 Although the main reason for us to visit Powerscourt Gardens in July is to admire the spectacular double borders and the delicious rose garden, there is so much more to enjoy in the other areas of the garden as well.
As you leave the formal gardens with the stunning array of flowers, and go through the wrought-iron French gates,  your eye is led up to the superb symmetry of the Great Sugarloaf mountain via wide, patterned steps which culminate in the Triton fountain at the bottom.  Classical sculptures ornament the prospect.
The surrounding areas are full of old, beautiful trees which are perhaps in their deepest greens in July, with rich shade for us to enjoy if it is hot.  A small 'Japanese garden' has a suitably quaint bridge.  A unique feature is the grotto formed from fossilized sphagnum moss, which was taken from the banks of the Dargle River nearby.  And as we finish our gentle walk through these gardens, there is a Pet Cemetery, where the pet dogs, and even horses, of the family were buried.
You may remember Powerscourt from a while ago, before it was restored and brought to its present splendour.  If you have not seen it recently, I really recommend this short visit as a treat in store for you.  And even though I have been so very often myself, I can never tire of these superb gardens no matter what time of the year I visit.
Your Guide Mary Montaut.
This visit arranged by the Leinster Committee and guided by Mary Montuat will be available for booking through Eventbrite at 10 euro per person.