When:
July 4, 2019 @ 7:00 pm – 9:00 pm
2019-07-04T19:00:00+01:00
2019-07-04T21:00:00+01:00
Where:
Belfast Botanic Gardens
Belfast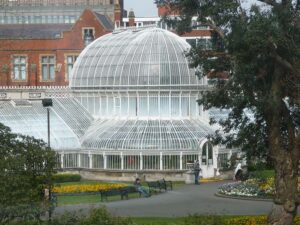 Thursday 4th July 2019 (7pm to 9pm) : Visit to Belfast Botanic Gardens (please note change of date from bookmark). Light refreshments will be provided.
Pre-booking is essential.
Due to the restricted number of 40 places, this is a MEMBERS ONLY EVENT. Regrettably we are unable to accommodate guests at this event. 
Book via EVENTBRITE
The visit to Belfast Botanic Gardens will consist of guided tours of two of the most important heritage buildings within the botanical gardens of the UK and Ireland.
The Tropical Ravine is a unique building. Designed by the then Curator, Charles McKimm, the whole of the interior is taken up by a sunken ravine and consists of two sections: a temperate section which was completed in 1889 and a tropical section which was reconstructed in 1900. An extension was added in 1902 to install a heated lily pond above the stove house. Visitors walk around a raised balcony gazing down on the planting, giving a bird's eye perspective not usually experienced in glasshouses. The Tropical Ravine was restored and reopened in 2018, with £3.8m funding provided by The Heritage Lottery Fund and Belfast City Council and a donation from Friends of Belfast Botanic Gardens.
The Palm House in Belfast Botanic Gardens, designed by Charles Lanyon, is an early example of a curvilinear glass house. The two wings, which were completed in 1840, predate the curvilinear glass houses in Glasnevin and Kew. The glazing in the two wings was undertaken by Walker of Dublin and the cast iron frames were designed and constructed by Richard Turner of the Hammersmith Works, Ballsbridge, Dublin. The central dome was added later in 1852 and was built by Young & Co. of Edinburgh.
Please note that this event is exclusively for MEMBERS ONLY.
Please note that this is a members only event and regrettably, due to a limit of 40 places, guests cannot be accommodated at this event.
Book via EVENTBRITE