Shell Houses and their Artists
Gerald and Margaret Hull will give us an illustrated talk on the value and significance of shell houses throughout the British Isles from the early 18th century to the present day. Their illustrations will feature shell houses and grottoes from Ireland including Dangan Castle, Castletown and Curraghmore. There will be a particular emphasis on the work of the noted botanical artist, Mary Delany, who lived in Glasnevin. Shell houses continue to be built today and Gerald and Margaret will introduce us to some of these contemporary structures.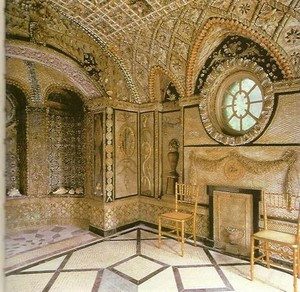 Gerald and Margaret Hull visit us from Bath to where they have retired after 30 years' lecturing/teaching in Ireland. They have spent the last 6 years visiting and cataloguing grottoes and shell houses in garden landscapes across the British Isles and the Mediterranean. Their publications include: Conchinilia Journey- British and Irish Shell Artists; Conchinilia Journey II and A Sublime Shell House Arcadianza! Female Creativity in the Changing Design, Decoration and Restoration of British Shell Houses 1800 – 2000.