When:
October 13, 2021 @ 8:00 pm – 9:30 pm
2021-10-13T20:00:00+01:00
2021-10-13T21:30:00+01:00
Where:
Zoom
The Zoom link will be given to members in time.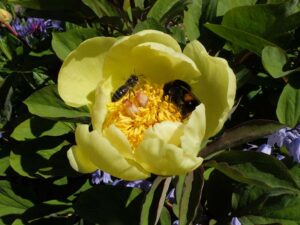 All flowering plants have pollen for reproduction: the pollinators — a buzz word in gardening at the moment — which move about the garden enable the plants
effectively to find mates which are vital to the health and survival of the plant
population. Mary will talk about the 'Big Four' insect pollinators, and also about physical forces like wind and rain which can enable plants to find partners for reproduction.
Mary Montaut loves plants and bees equally.  She edited the Beekeeping
journal, An Beachaire, for nine years, and has been a member of the IGPS
for much longer than that. She lives and gardens in Bray, Co. Wicklow where the photographs were taken.