When:
March 26, 2020 @ 7:30 pm – 9:30 pm
2020-03-26T19:30:00+00:00
2020-03-26T21:30:00+00:00
Where:
Old Courthouse
Antrim
Cost:
IGPS members free. Non-members £5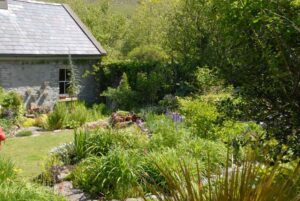 Carl Wright has created one of Ireland's very special gardens. The Burren, in Co, Clare, is an area of outstanding natural beauty, a limestone pavement which is home to an extraordinary collection of wildflowers but as Edmund Ludlow, a general in Cromwell's army, wrote in 1651 it is "a country where there is not water enough to drown a man, wood enough to hang one, nor earth enough to bury him." Yet, Carl has made a garden  in these conditions!
The garden is situated inland from Fanore, in northwest Co. Clare, up the Khyber Pass, the valley of the River Caher which flows through Carl's garden and the bridge which carries the public road over the River Caher forms one of the boundaries to Carl's garden – hence the name, "Caher Bridge Garden".
Creating the garden involved clearing the hazel scrub around his house, building various raised beds and bringing in topsoil – for there was none there previously, and then the planting of a fabulously lush and beautiful garden. In this process, Carl has tried and selected the very best of plants and in this talk will tell us of the many beautiful plants he has tried and which have succeeded with him over the years. Among the wide range of  plants Carl has developed a collection of Irish-bred daffodils and with more than 70 different cultivars already planted in an upper part of the garden I'm sure they will appear during the talk.